White Hat or Black Hat SEO: The Right and Wrong Way to Improve Your Small Businesses' Ranking
Optimizing your small business website and content for search engines (aka SEO) involves techniques often grouped into two large categories, white hat and black hat. Unfortunately, these two categories are less about your sense of fashion and more about the methods you use to improve your ranking.
So let's take a look at what these two categories mean, some of the techniques you might find in each one, and how to avoid "SEO experts" who "promise to put you on the front page of Google" who might end up doing more harm to your ranking than improvement.
What is Black Hat and White Hat SEO?
In the simplest terms, black hat SEO represents questionable and illegal techniques aimed at improving your websites rank, while white hat refers to fair and approved methods.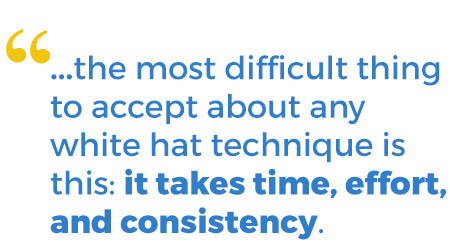 If you use black hat SEO on your website, it's very likely to be penalized in the form of a lower ranking and might even result in your site being removed from the rankings altogether. Search engines are always improving their algorithms and implementing stricter guidelines to ensure that marketers don't take advantage search users. So while a technique might work well today, it might not work at all tomorrow.
White hat techniques are subtle, don't take advantage of the users, and they improve your reputation. For example, you might include two or three keywords that are relevant to what you've written. In this article, we might include keywords like 'White Hat SEO techniques' or 'marketers that use white hat' as keywords or phrases. Keywords shouldn't disrupt the flow of the content and frustrate the reader. Instead they should help identify and specify the article.
But the most difficult thing to accept about any white hat technique is this: it takes time, effort, and consistency.
There are thousands of articles online that discuss SEO techniques, but few make the distinction between white and black. To make matters worse, "good" and "bad" are moving targets.
Google doesn't publish a list of approved techniques. The best they offer is a technical guideline manual that any basic plugin can help you with. As such, there is no 12-step method to getting your site to rank. If there were, everyone would be doing it and we'd be right back to square one. So how do you know if your techniques are white hat?  Let's look at a few examples.
Black Hat Techniques
Gut check time! The best method for determining if your technique is black hat is the feeling you get when doing it. If it feels like cheating the system, it's probably it is. And let's be honest, do you really want to try and outsmart Google? Here are a few black hat techniques to avoid.
Stuffing the Meta Description

The meta description is the little blurb displayed on the search engine results page beneath your link. It displays basic information about the information you might find on the webpage. It's a good idea to include relevant information about the page and even include a keyword. In fact, Google will bold the term a user is searching for in your result (if it's there).
But you need to exercise some restraint. Adding too many keywords is considered meta stuffing and Google hates that. In fact, meta keywords don't really improve ranking at all, they simply make it easier for the user to understand what's on the page. So stuffing this area won't help.
Cloaking
Have you ever clicked on a link expecting one thing and are faced with something entirely different? That's called cloaking. In this instance, a marketer creates two websites instead of one. The surface website would be for the search engine bots and would follow all the guidelines. The second website would display different content and is designed specifically for customers.
For instance, some old school websites used to bury paragraphs of keywords on each page of their site, then change the text to white. Search engines could "see" the text, but visitors would not. That may have worked for a little while, but search engines quickly updated their rules to penalize those sites. Creating anything solely for the purpose of tricking Google is not going to end well.
Link Purchase
You might have heard that backlinks are an essential part of SEO, and they are, but these links need to be earned. You need to create great content, contact high-authority web pages, and get backlinks from them because of the quality of your content. Purchasing links (or reviews) from websites like Fiverr will actually hurt your site, not help it.
This is because Google looks at two factors when determining the quality of your domain and the links you have:
How many sites link to your site (people "vouching" for you)
The quality of those sites (are these "good" people)
Purchased links are usually from spam websites and aren't considered legitimate from any angle. But even links purchased from legitimate sites aren't worthwhile any more with recent changes.
Instead, take the time to earn links to your site. Encourage business partners to link. Share your content with industry leaders. Try to build an audience of readers who find your materials valuable and share it with their friends and colleagues. It's not easy, but it's one of the best ways to improve your ranking.
White Hat Techniques
Ask yourself this question: is this technique time-consuming and kinda hard to do? If your answer is yes, great! That means you're probably pursuing a white hat technique. It's never easy being the superhero, but that doesn't mean you shouldn't try.
White hat typically involves methods any reliable, reputable website would use to improve the user experience. That means:
Regularly publishing meaningful content
Actively engaging in social media
Diversifying the types of material they create (videos, podcasts, infographics)
Using keywords in moderation – not in an effort to "push" the page, but instead to inform search users what the page is about and how it might help them
So ask yourself these questions as you begin to formulate a content strategy:
What are my clients problems and pain points?
What are the questions they might ask as they enter the market for my product or service?
How can I help them become more knowledgeable and answer those questions?
Then create materials that do just that. You'll naturally attract people interested in your information while also informing them about your offerings.
As with most things in life, there's the easy way and there's the right way. Search engine optimization is a great way to improve organic traffic to your website, but the methods and techniques for doing it are important. Shortcuts may prove effective for a little while, but in the end could hurt your site.
So if you're serious about SEO, take the time to do it right. Work with an expert who can help create, guide, implement and improve a strategy specific to your business. And if they promise to put your business on the front page of Google for $49, run the other way.
https://onestopsiteshop.com/wp-content/uploads/2016/11/white_hat_vs_black_hat.jpg
630
1500
Kyle Haas
https://onestopsiteshop.com/wp-content/uploads/2015/09/WebLogo.png
Kyle Haas
2016-11-08 11:54:09
2016-11-14 17:29:39
White Hat or Black Hat SEO: The Right and Wrong Way to Improve Your Small Businesses' Ranking