Hacked Websites and Their Effect on SEO
A hacked website is often an urgent problem for small business owners. We've had clients describe their web hacking like a home invasion: someone ransacked the place, stole information and valuables, and left the owners with a deep feeling of violation. But until recently, there had not been any survey or studies into just how impactful a web hacking can actually be to a small business owner.
Thanks to a recent survey by Wordfence of over 1,600 website owners, we now have some insight into three primary areas of impact: search engine optimization (SEO), the amount of time a typical recovery takes, and the typical costs of repairing or replacing the site following a hack. The results were surprising.
Hacked websites impact on SEO
Search engine optimization is the process by which a site is optimized to improve it's ranking in search engine results like Google or Bing. Often an SEO focused strategy can take months to build through the use of quality content, meaningful web pages, and solid outreach to other websites. As such, an attack on a successfully optimized site can be all the more devastating to search results.
Once Google recognizes a site has been hacked, it will typically serve the malicious page warning as seen below. It effectively blocks the majority of visitors to your site, labels it as malicious or fraudulent, and even blacklists the site until it is notified the site has been fully repaired.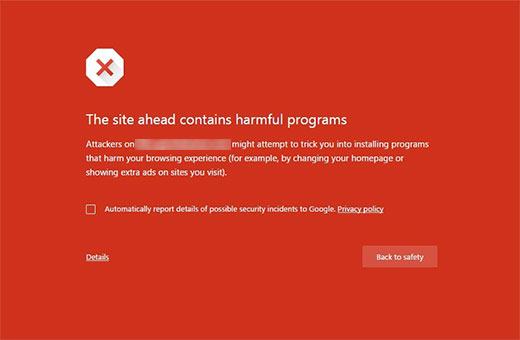 The study points out that sites flagged by Google experience an immediate drop of 77% of web traffic. Even once fixed, 45% of website owners said their web traffic never fully recovered. The study concludes that, "…sites that are hacked and penalized by Google suffer a long term penalty on their rankings."
But there is one caveat: 55% of respondents reports that a hack had no impact on their search rankings. This was likely due to their ability to quick find and repair the issue prior to being flagged by Google. For these site owners, a quick fix prevented any further harm.
Hacked websites recovery time
Time is of the essence when it comes to recovering from a website hack. According to the survey, 40.9% of respondents said they were back online within 24 hours following a hack likely due to a recent site backup. This illustrates an important point: ALWAYS backup your site!
On the other hand, the average time to recover from a website hack was over a week (7.49 days). Not only did they have the hassle of attempting to fix their sites, but they likely did so while their SEO was falling through the floor and customers were turning to their competitors.
The cost of a hacked website
This was perhaps the most startling statistic revealed by the survey. When asked, "What was the total cost of your hacked site including downtime, lost revenue and any other costs incurred?" site owners replied with an average cost of $2,518.
To be fair, the survey removed all completely outlandish responses and those who remarked that they handled the recovery themselves for free, likely skewing the final number higher.
The key takeaway: hacked websites are expensive on all fronts. From lost revenue to lost trust and everything in between, a hacked website can be more than just a headache for the owners.
Conclusion
Just like a padlock, its impossible to create a completely hack-proof website. Just ask Home Depot or the Department of Justice.
All we can do is prevent and plan. If you've already been hacked, start fixing or replacing it as quickly as possible.
Ensure your website is routinely creating backups of the entire site and conduct frequent security scans to keep your site safe and secure. Make sure your site is updated with the latest and try to minimize additional plugins or scripts from third party sources.
Alternatively, consider hiring a professional who can help with your needs. Given the cost of a hacked website, their service may pay for itself.
https://onestopsiteshop.com/wp-content/uploads/2016/05/hacked_website_seo-1.jpg
292
850
Kyle Haas
https://onestopsiteshop.com/wp-content/uploads/2015/09/WebLogo.png
Kyle Haas
2016-05-12 12:27:44
2016-11-06 12:00:32
Hacked Websites and Their Effect on SEO