How Do I Get a Website for My Small Business?
It's a question we hear a lot from first-time entrepreneurs, how do I get a website for my small business? With all the options for website builders, designers, tools, and services the choice can be overwhelming, especially for someone unfamiliar with how web design works.
So what's a small business owner to do? Where should they start? Here are 3 steps you can follow to help you figure out how to get a website for your small business.
Consider Your Goals
This is the step everyone needs to do, yet no one ever does. So pull out a piece of paper, and follow along with me.
No, seriously… do it.
First, write down the three most important goals for your small business. If you're reading this article, my guess is one of them has to do with establishing a web presence, i.e. putting your company online. And for good reason!
"50% of consumers who conducted a local search on their smartphone visited a store within a day, and 34% who searched on computer/tablet did the same," according to statistics from Google.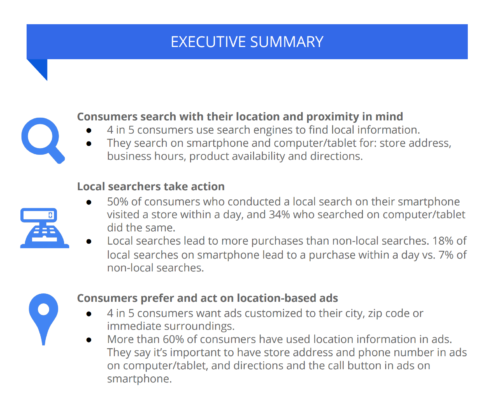 It is this simple: if you want people to find your business online, you have to have a website. An active Facebook page is great, but relying on anything but a website to help new customers find your business is a short sighted strategy. Think about it this way: if you search for a business online and they don't have a website, what do you think about that business? Either they're too cheap to establish a website or too unprofessional to care. In this day and age, if you don't have a website, you don't exist.
Your other two goals likely also tie into a website. For a small business, a website should act as the central hub for all your marketing efforts. Want to send a direct mail piece? It should link back to a specific page on the website. Combine this with analytics (tools that measure and track your website) and now you have a method for measuring the success of your mail campaign. This is the same for online advertising, event marketing, giving seminars, placing print ads, etc. All of these outreach efforts should direct people back to your website where you can monitor what is effective.
Consider Your Options
With your goals in mind, it's time to consider your options for getting a website. Traditionally there are two primary options: either build it yourself or hire a web designer to construct a site for you.
Build It Yourself
Building a website might seem intimidating, but a variety of new tools and services have made building a basic website easier than ever. Through the use of drag and drop interfaces, building a one-page website for your small business can take less than a day. These services also have the benefit of being very affordable, though you will typically have to pay a small monthly fee (about $20) to use your own domain (www.yourbusiness.com) instead of theirs.
There are a few drawbacks to be aware of. First, these types of websites tend to be very limited in flexibility. Drag and drop is great… until you need to add something that can't be dragged and dropped. Even worse, trying to contact support for help can turn a one-day project into a two week project. Do you have the time or desire to deal with constant frustrating calls to customer support?
The other concern has to do with routine updates and maintenance. Google search ranks active websites higher than those that remain static. That means a one-page site might put your business online, but if you want to appear higher in search engine results and actually see your site, you need to keep it updated with fresh, interesting content. According to Search Engine Watch:
…Instead, from an SEO perspective, original and engaging content will set you apart from competitors, as it gives the search engines something to index that can't be found elsewhere. It also helps your content marketing goals, as original and quality content is far more likely to attract the audience you're targeting.
Again, do you have time to manage this all yourself? If not, you need to find some help.
Hire a Web Designer
The other common choice for small business owners is to hire a web designer to design and build a site. The benefits of this are obvious, but there are also a lot of issues to consider.
First, all web designers are not alike. I've heard horror stories from business owners who paid a web designer up front, only to never hear from them again. Even worse, a bad developer can leave security holes in your website, allowing it to become infected with malware and spamvertising. This not only ruins your website, but can actually infect or harm those who visit your website as well. That's not the impression you want to give your customers.
Second, you don't always get what you pay for when it comes to web design. Some designers charge hefty amounts for their services. Sometimes this is justified, other times it feels like a trip to the mechanic. They can charge exorbitant amounts and people will pay them because they don't know any better. Don't allow yourself to be taken advantage of.
When seeking quotes from web designers, ask them to break down the cost of the project. What's their hourly rate? How many hours will the project take to complete? What will ongoing services cost?
On the other hand, paying nothing for a web designer is also a red flag. You've probably received emails from web companies promising first page Google results and a shiny new website for the low low price of only $149. But security holes, terrible coding, and poor design are the trademarks of services like this. (Side note: no one can promise first page results on Google. Only Google controls who is on their first page and any company telling you otherwise is lying to you.)
The ideal web designer should be a good value to your business. They should create a custom site that matches your business, be able to justify their costs, provide ongoing help and support in a timely manner, and use their expertise to help your website become a tool for your business.
A good web designer will not only help you establish and grow your business online, but be a partner to help you imagine and integrate other marketing efforts.
Will a Website Really Help Me Get More Customers?
Yes and no.
Having a website is essential for any small business. Whether you're providing information, showing off pictures, or even collecting information from your visitors, you need to have a website to act as a home base for your business.
But simply having a website is only half the battle. "Build it and they will come" does not apply to websites. Every day, millions of new websites are created. Finding ways to stand out has to be an important focus for you and your web designer.
Fortunately, there are better tools and resources for finding and connecting with your ideal customer than ever before. Thanks to advertising techniques like pay-per-click, your ideal customer is well within reach, even with small budgets.
Of course free options also help to increase your traffic. Make sure your new site is listed on Google My Business, Yelp, YP, and other listing sites. Work on building your presence of social media. Use your blog (you had your designer build a blog into your new site right?) to publish great content relevant to your audience.
These methods will help new visitors find your business online. And if you have the right big idea, you can turn more of them into your clients and customers.
https://onestopsiteshop.com/wp-content/uploads/2016/08/how_do_i_get.jpg
887
1500
Kyle Haas
https://onestopsiteshop.com/wp-content/uploads/2015/09/WebLogo.png
Kyle Haas
2016-08-14 10:31:33
2016-11-06 11:59:07
How Do I Get a Website for My Small Business?